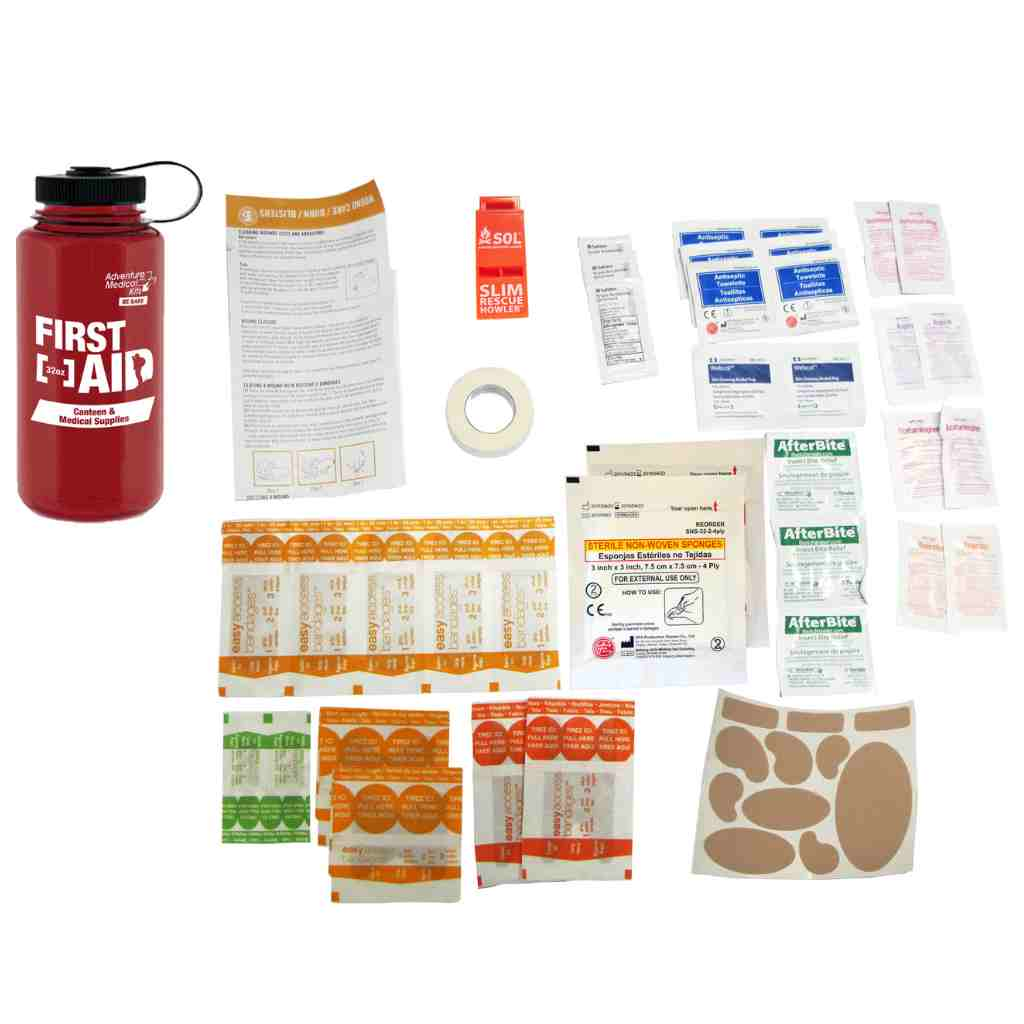 Adventure First Aid, 32 oz. Kit
The Adventure First Aid 32 oz. water bottle first aid kit contains reliable first aid supplies to treat cuts, insect bites, sprains, aches, and allergic reactions.

Durable Water Bottle – 32oz, BPA-free plastic bottle keeps contents dry or water in, depending on your needs.
A Variety of Bandages – Rugged bandages in a variety of sizes.
Stop Blisters Before they Start – Die-cut moleskin to protect against the hiker's #1 injury.
Manage Pain and Illnesses – A wide array of medications to treat pain, inflammation, and common allergies.
Clean and Close Wounds – Antiseptic wipes and butterfly bandages for closing small wounds.
Includes:
2 – Pain Reliever/Fever Reducer (Aspirin 325 mg)
2 – Antihistamine (Diphenhydramine 25 mg)
2 – Pain Reliever/Fever Reducer (Ibuprofen 200 mg)
2 – Pain Reliever/Fever Reducer (Acetaminophen 500 mg)
3 – Triple Antibiotic Ointment
2 – Sterile Gauze Dressing, 3" x3"
1 – Moleskin, Pre-Cut/Shaped
1 – Cloth Tape - 1/2" x 5 Yards
1 – Slim Rescue Howler Whistle
5 – Adhesive Bandage, Fabric, 1" x 3"
2 – Adhesive Bandage, Fabric, Knuckle
2 – Adhesive Bandage, Fabric, Fingertip
2 – Adhesive Bandage, Plastic, Junior
60-Day Satisfaction Guarantee
I like really like this first aid kit to keep in my car and I like the fact that it's in a bottle that is waterproof and would allow for the items to be kept dry if you take this on a canoe/rafting trip. It has a good variety/combination of first aid items that are good to have on a short trip. –Alana E.
A Kit in a Bottle
Treat minor injuries with this well-stocked kit in a water-resistant bottle.