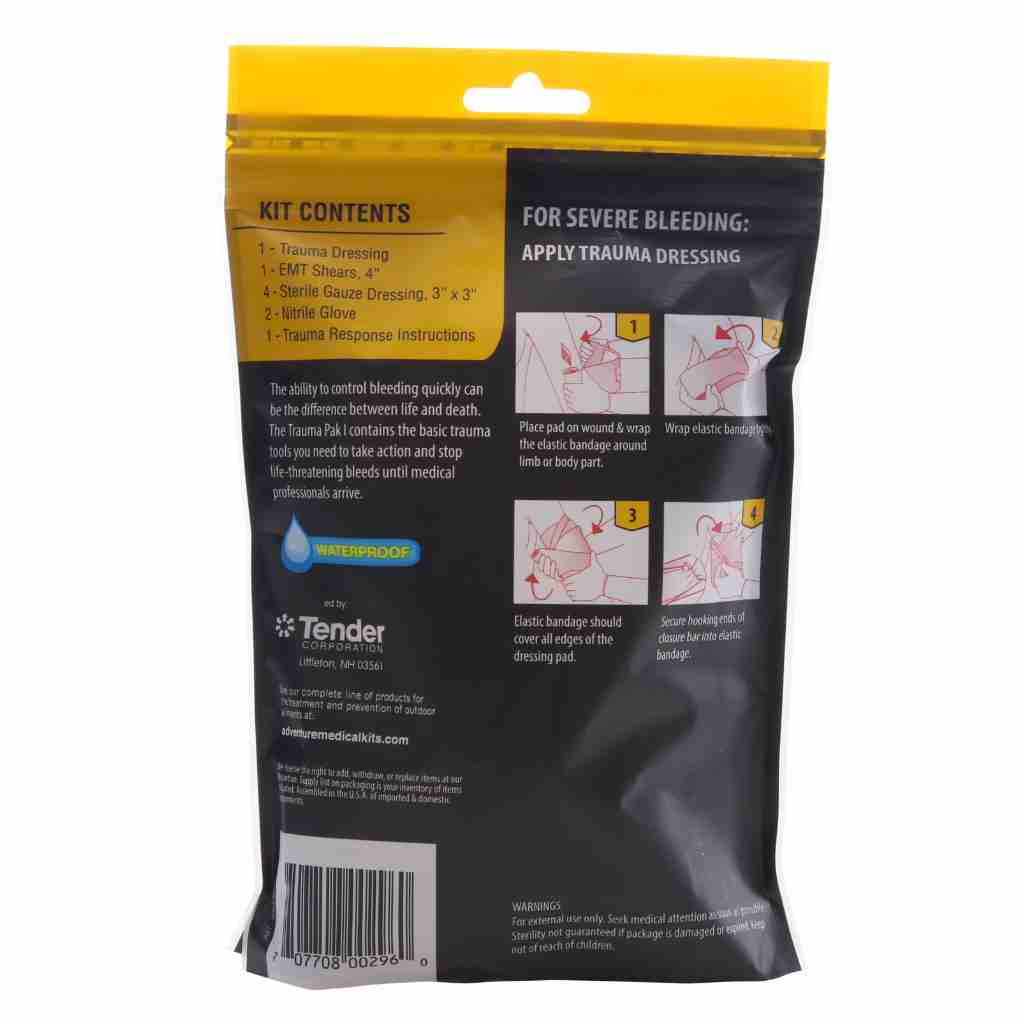 Trauma Pak 1 First Aid Kit for Wound Dressing
Be prepared for emergencies whether you're at home, on the job, or out and about. The Trauma Pak I gives you the power to stop bleeding with the basic trauma tools and medical supplies you need to take action until medical professionals arrive, all in a compact, waterproof trauma bag.

Designed for Immediate Response – Respond quickly to control severe bleeding. This trauma bag contains the essentials you need to stop bleeding in an easy-to-use format, perfect for a personal trauma kit or bleeding control kit.
Waterproof DryFlex Bag – Have confidence the Trauma Pak I will keep its contents ready to use. The resealable DryFlex bag is completely waterproof, incredibly durable.
Compact and Lightweight – Have the tools you need to stop bleeding wherever you go. The Trauma Pak I weighs less than 5 oz. and is small enough to fit into a glove box, backpack, range bag, or first aid kit.
Trauma Dressing for Serious Injuries – Stop bleeding fast with the trauma dressing which combines a trauma pad and gauze to apply direct pressure and stop potentially fatal blood loss, reducing the risk of shock.
Emergency Essentials – In addition to the trauma dressing, trauma kit includes EMT shears, nitrile gloves, and gauze.
Includes:
1 – EMT Shears, 4"
2 – Sterile Gauze Dressing, 3" x 3"
1 – Latex-Free Gloves
1 – Trauma Bandage
60-Day Satisfaction Guarantee
Iove the product ... it's light weight and easy to carry in my hiking pack ... bought it to complete my first aid kit...I plan on purchasing more for the home and car ... highly recommend this product. –Anonymous
Respond Quickly to Severe Bleeding
Key trauma supplies in a waterproof bag.