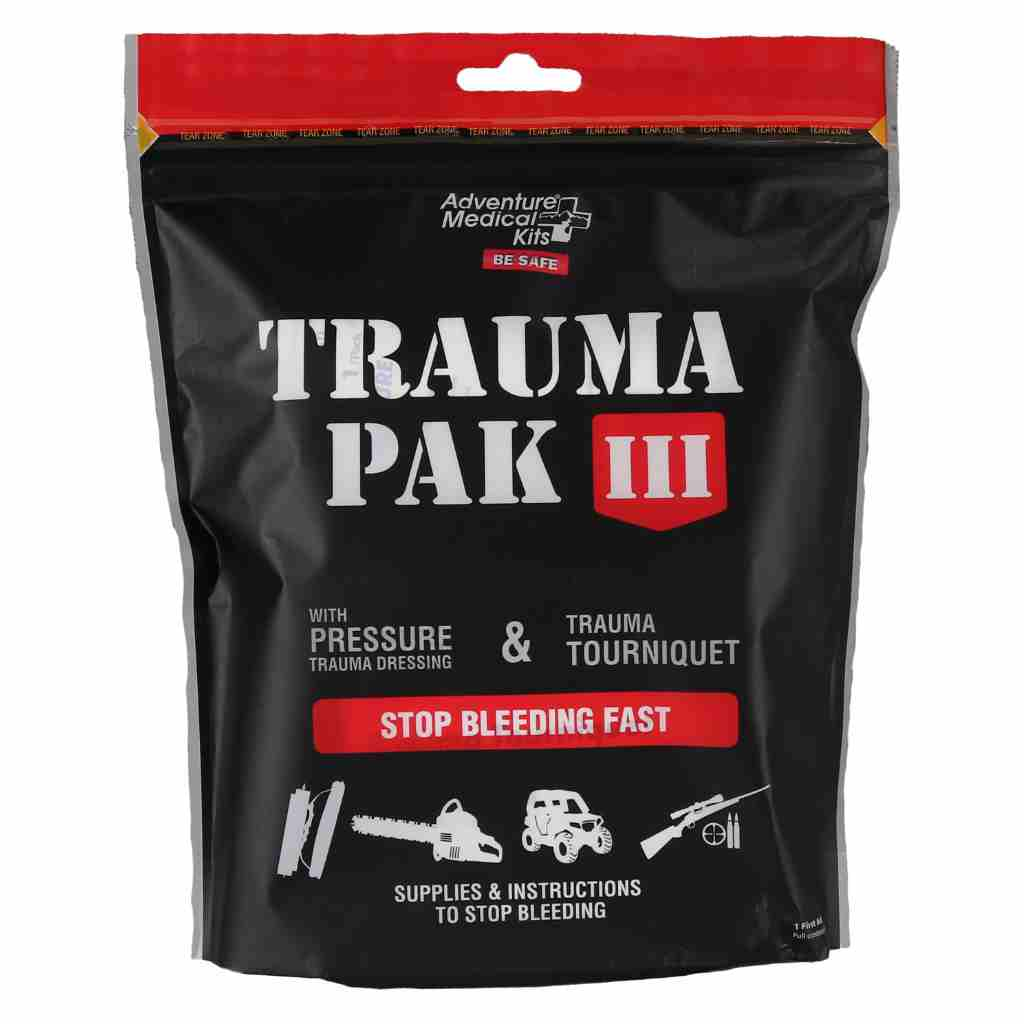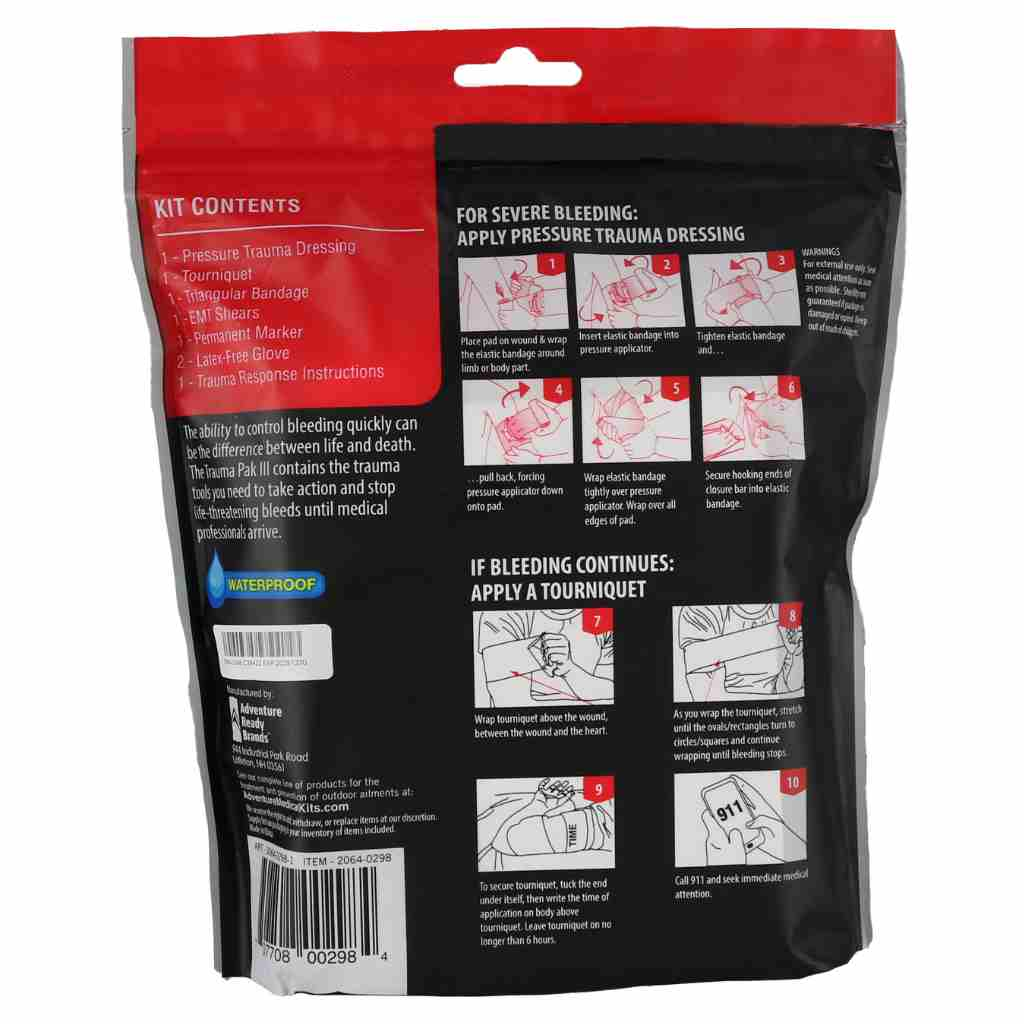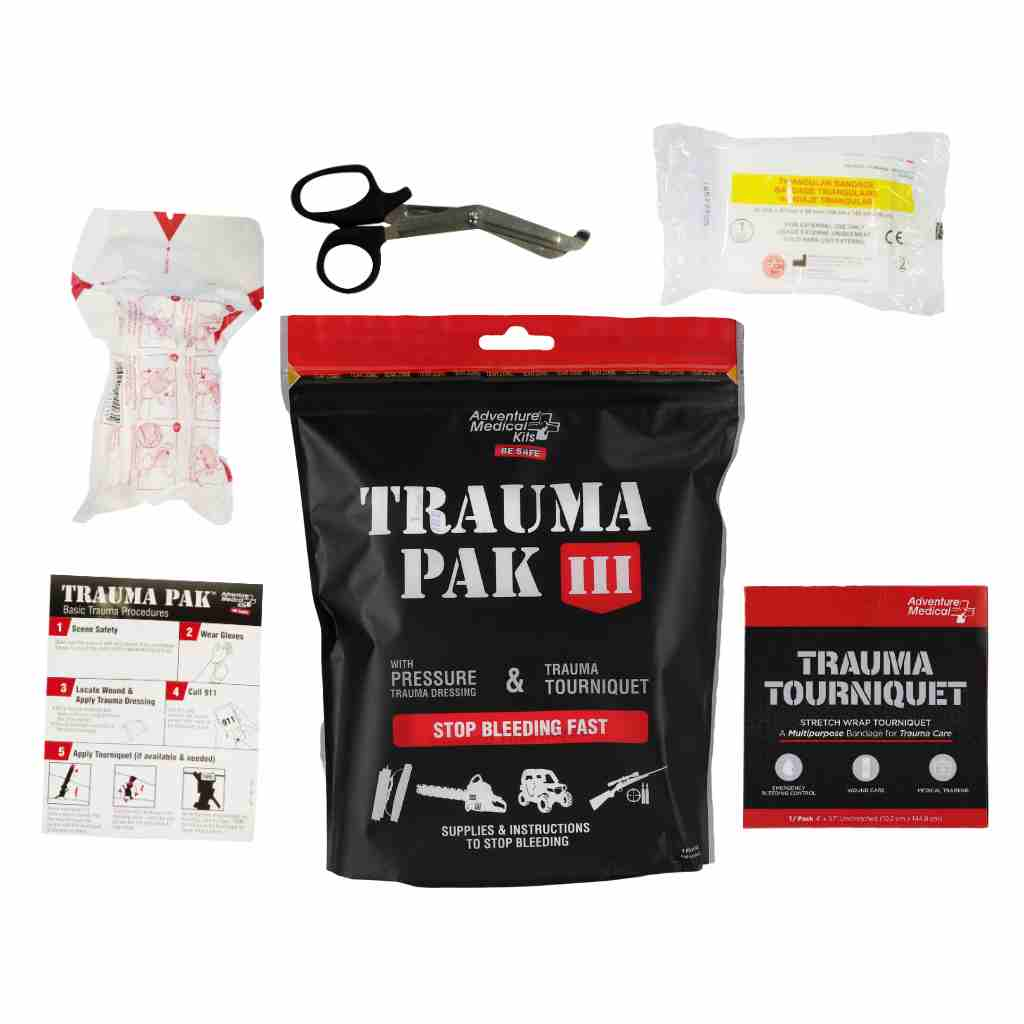 Trauma Pak III
Our most advanced trauma kit, the Trauma Pak III puts professional supplies in civilian hands, empowering you to take action to stop bleeding as it occurs. The waterproof, resealable trauma bag contains emergency essentials like a trauma tourniquet, pressure trauma dressing (Israeli Bandage), EMT shears, nitrile gloves, marker, and triangular bandage.

Designed for Immediate Response – Respond quickly to control severe bleeding. This trauma bag contains the essentials you need to stop bleeding in an easy-to-use format, perfect for a personal trauma kit or IFAK add-on.
Trauma Response Instructions – Prepare yourself with life-saving first aid information. This one-page guide outlines how to use the Trauma Pak III contents to stop bleeding in five easy-to-follow steps with illustrations.
4" Pressure Trauma Dressing – Apply direct pressure to wounds with the pressure trauma dressing (Israeli Bandage), which combines gauze, pressure bar, and trauma pad to stop bleeds using up to 40 lbs. of force.
Adventure Medical Trauma Tourniquet – Stop persistent bleeds with the windlass tourniquet, the most well-known, military-style tourniquet, which can be applied over clothing for immediate response to life-threatening bleeds.
A Compact, Lightweight Kit in Waterproof Bag – The waterproof, resealable Trauma Pak III weighs only 8 oz. and is a compact addition to your glove box, range bag, backpack, or first aid kit.
Emergency Essentials – Kit includes a marker to write the tourniquet application time and Patient Assessment Form, EMT shears to cut through fabric, nitrile gloves, and a triangular bandage to stabilize limbs.
Includes:
1 – EMT Shears, 4"
1 – Triangular Bandage
1 – Latex-Free Gloves
1 – Emergency Bandage, 4"
1 – Multigate Tourniquet
60-Day Satisfaction Guarantee
Excellent First Aid. I recently had the unfortunate opportunity to use this kit on a scuba diving trip. One of the divers was severely cut, I opened the kit and was relieved to find everything I needed to stop the bleeding, the duct tape provided in the kit did the job of holding everything in place in a wet environment. I carry one of these when I am hunting, diving, fishing, hiking, and in my truck. I highly recommend this to anyone who realizes they may be in a situation where emergency medical assistance is not readily available, or may not arrive in time to save you, or your friends and family. –Yakima
Respond Quickly to Severe Bleeding
Life-saving trauma supplies in a waterproof, resealable bag.