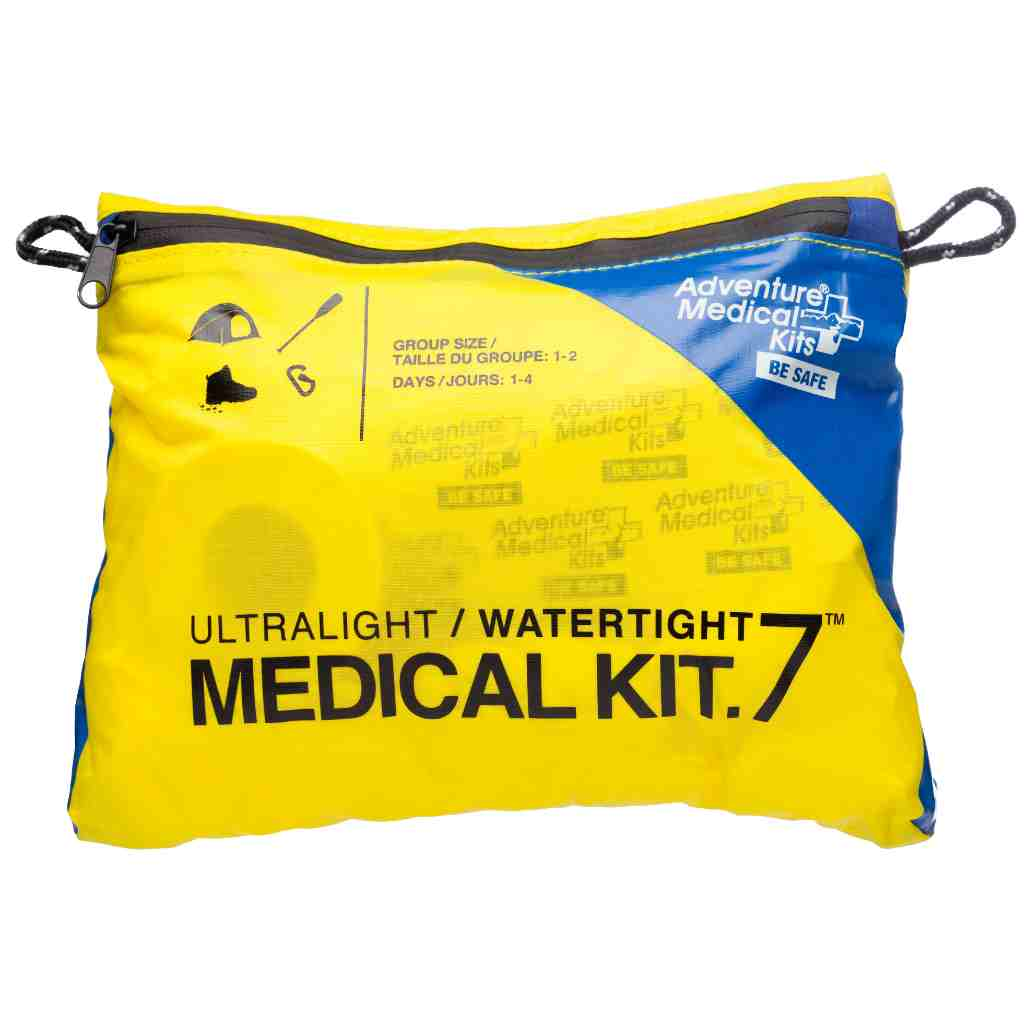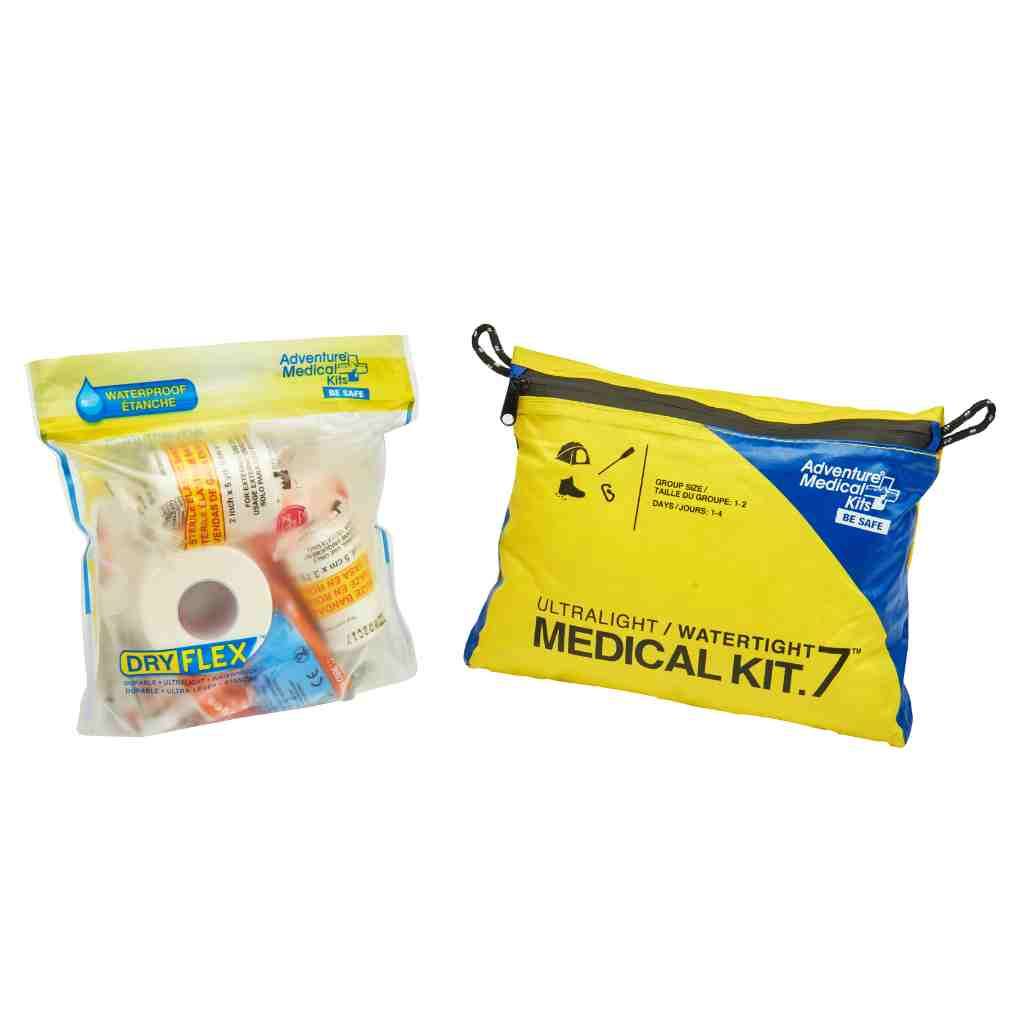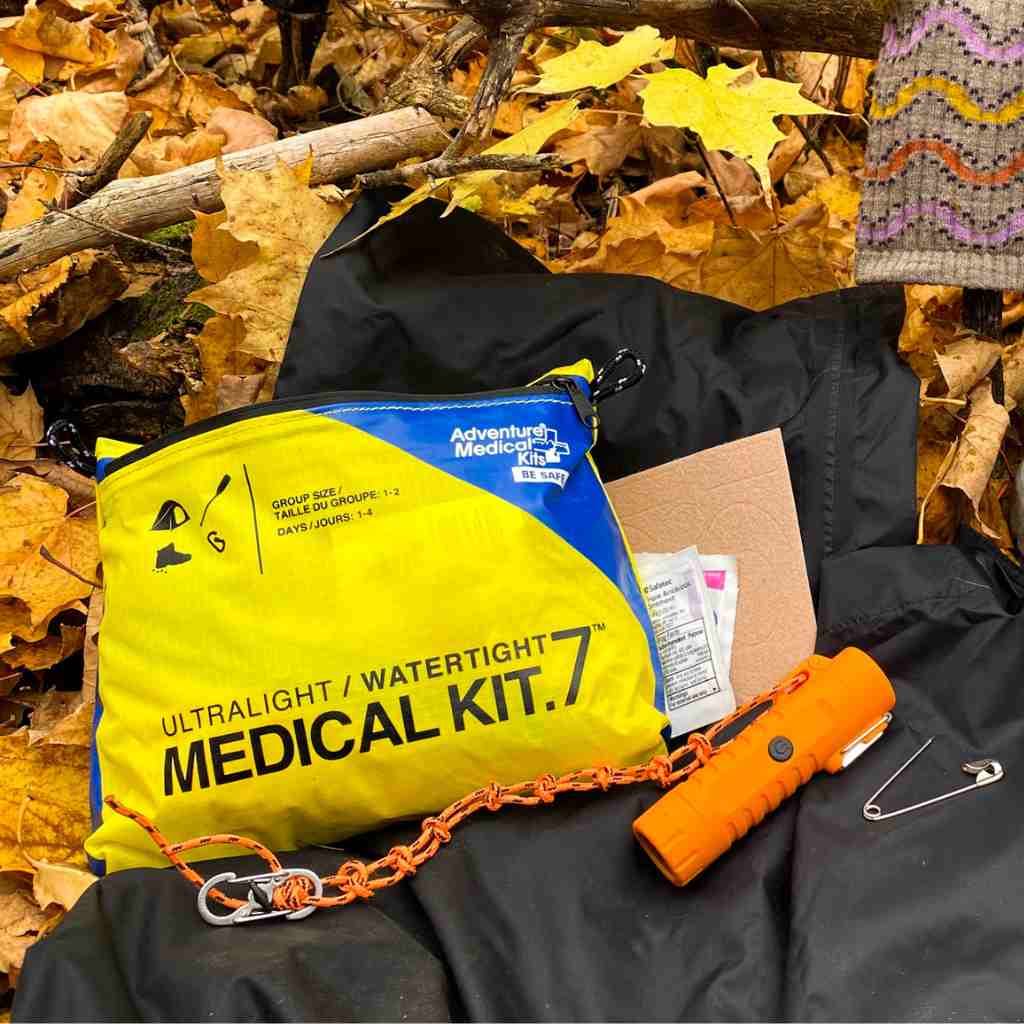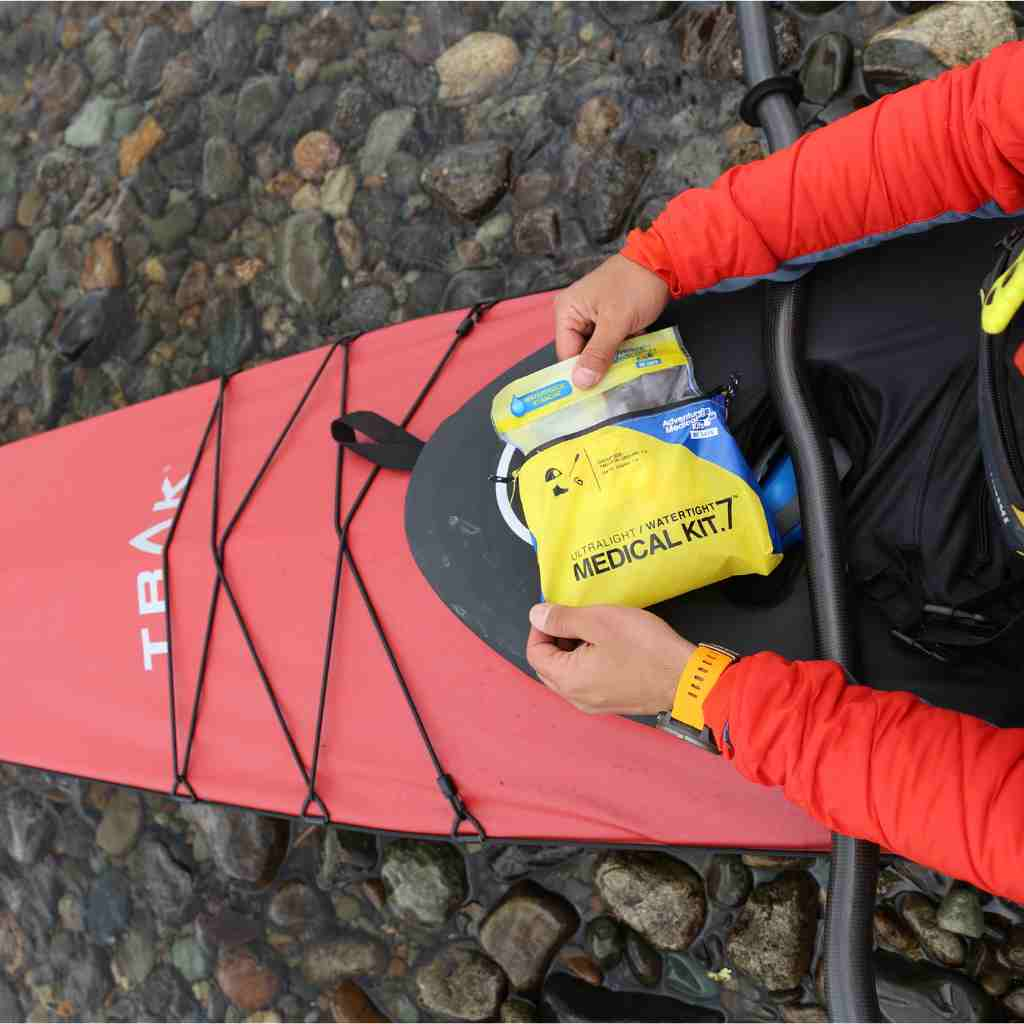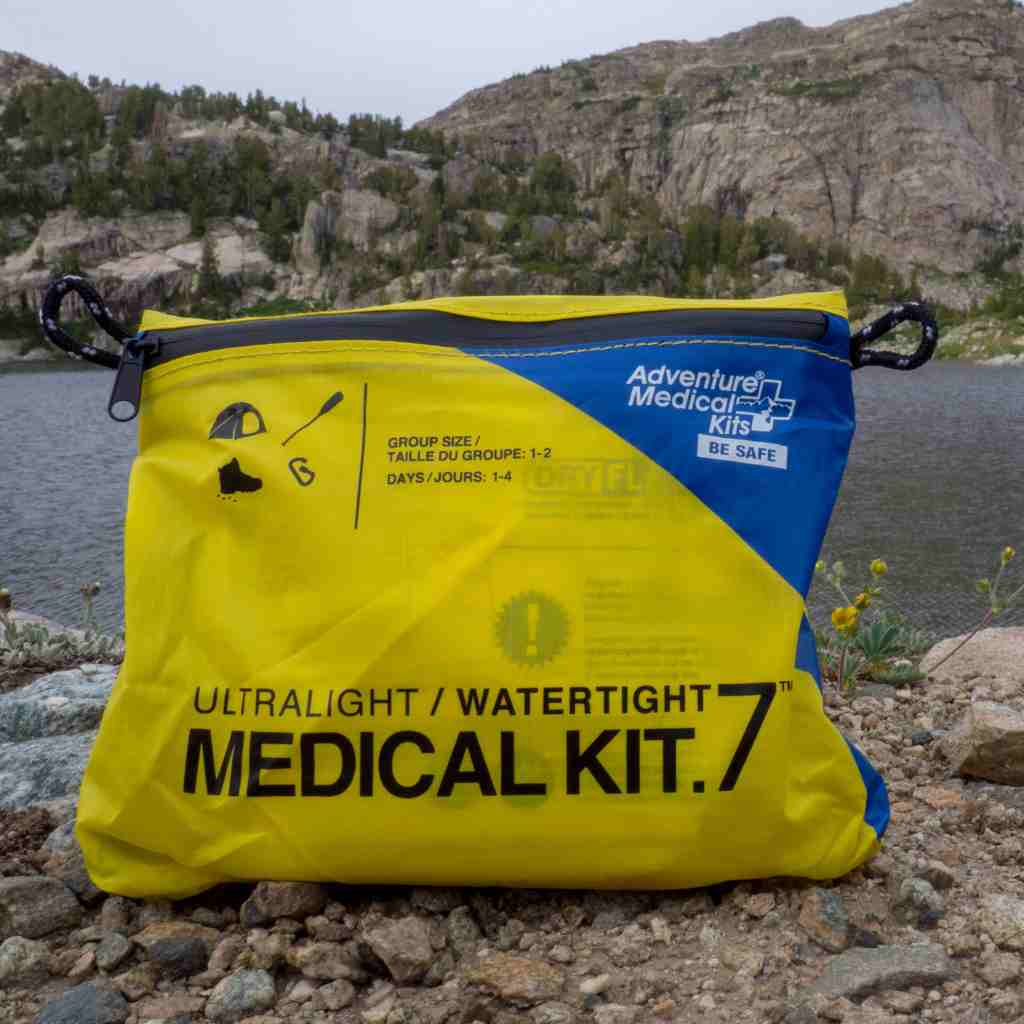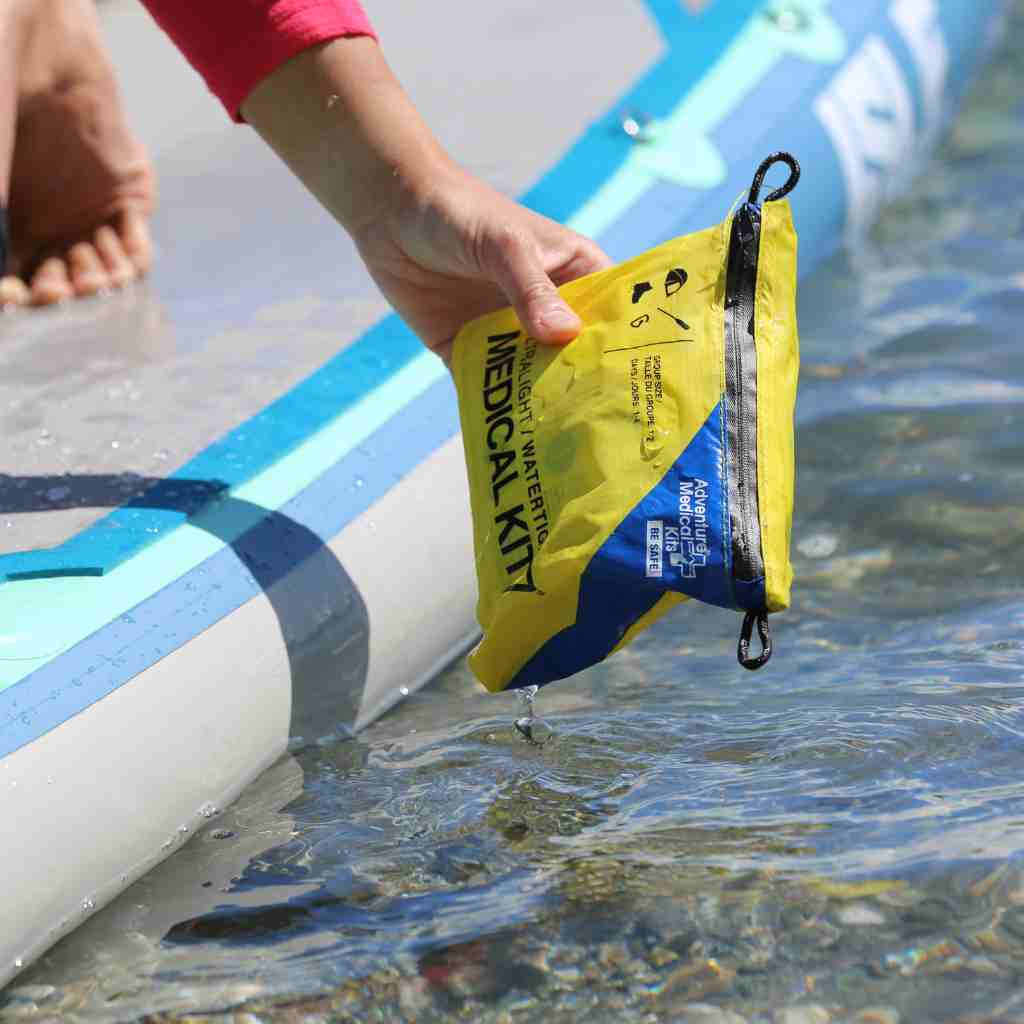 Ultralight/Watertight Medical Kit - .7
Repeatedly tested and approved by professionals, the Ultralight/Watertight .7 medical kit contains the first aid supplies you need for a 1-2 people traveling for 1-4 days. This waterproof first aid kit weighs only 5.8 oz. and contains a variety of bandages, medications, and tape, plus moleskin for blisters, and more. A perfect kit for the multi-sport enthusiast, adventure racer, or ultralight hiker.

Designed for Multi-Sport Athletes – Pack the medical kit required by the USARA Adventure Racing Championships because of its proven ability to perform for any and every outdoor sport without letting or weighing you down.
2-Stage Waterproofing – Face rivers, snow, and the elements without destroying your kit, which has a 100% waterproof DryFlex inner bag and water-resistant outer bag with a durable water repellent finish.
Treatment for Wounds and Illnesses – Clean and close wounds with antiseptic wipes, butterfly bandages, sterile dressings, and a topical adhesive. Manage pain and illnesses with a wide array of medications.
Stabilize Fractures & Sprains – Stabilize fractures and sprains using a wide elastic wrap, as well as a variety of other wraps and bandages included to help you immobilize fractures and provide support out on the trail.
Blister Prevention & Protection – Stop blisters before they start with die-cut moleskin, the most reliable dressing to reduce friction and prevent blisters.
Emergency Gear Repairs – Repair gear on-the-go using the included safety pins and mini roll of duct tape for temporary fixes until your next stop. A surprise tear or rip doesn't need to slow you down.
Includes:
3 – Adhesive Bandage, Fabric, Knuckle
5 – Adhesive Bandage, Fabric, 1" x 3"
1 – Latex-Free Gloves
3 – Bandage, Butterfly Closure
1 – Cloth Tape, 1" x 10 Yards
1 – Duct Tape, 2" x 26"
1 – Moleskin, Pre-Cut/Shaped
1 – Splinter/Tick Remover Forceps
2 – Sterile Non-Adherent Dressing, 3" x 4"
1 – Bandage, Conforming Gauze, Sterile, 2"
1 – Elastic Bandage, 2"
2 – Sterile Gauze Dressing, 2" x 2"
2 – Sterile Gauze Dressing, 3" x 3"
3 – Safety Pin
2 – Pain Reliever/Fever Reducer (Aspirin 325 mg)
2 – Antihistamine (Diphenhydramine 25 mg)
2 – Pain Reliever/Fever Reducer (Ibuprofen 200 mg)
2 – Pain Reliever/Fever Reducer (Acetaminophen 500 mg)
3 – Triple Antibiotic, Single Use
2 – Skin Tac Topical Adhesive Wipe
60-Day Satisfaction Guarantee
The Adventure Medical Kits Ultralight/Watertight .7 is a go-to for lightweight adventures because of its quality components, simple design, low weight, and the attention to detail that make this kit as waterproof as possible. This was the most used first aid kit we tested due to its size and weight — it seemed to always be the perfect size for whatever adventure we were heading out on. With a few additional items, such as a CPR mask, trauma shears, irrigation syringe, and a few more medications, this is the go-to kit for most day adventures and small group wilderness excursions. –OutdoorGearLab
Ultralight & 100% Waterproof
Save weight and worry with the Ultralight/Watertight Series.